Serving love from another Mother at your doorstep…
Monthly tiffin service in Bhopal starting at Rs 1499/-* !!!
Delivering in 25+ locations in Bhopal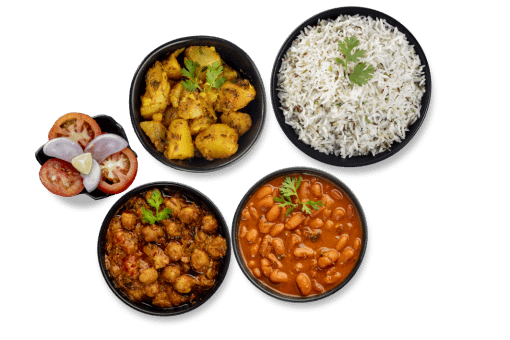 Serving love from another Mother at your doorstep…
Monthly tiffin service in Bhopal starting at Rs 1499/-* !!!
Delivering in 25+ locations in Bhopal

Warm, Hygenic and Tasty Food
If you think your food couldn't get any better, you should try the food at MealOn.
Highly Recommended
Champion in tiffin services from last 3 years. Highly rated tiffin services in Bhopal
Worth Every Penny
We offer meals within your means. We are not here to just make money but make happy customers.
Fast Doorstep Delivery
Delivering the meal you need, when you need it. We ensure you're happy with your food.
Whats Included in MealOn Tiffins?
Rice Bowl,  4-5 Roti,  Dry Veg,  Wet Veg,  Salad,  Sweet/Pickle.
Whats Included in MealOn Tiffins?
Rice Bowl,  4-5 Roti,  Dry Veg,  Wet Veg,  Salad,  Sweet/Pickle.
Delivering in 25+ Locations in Bhopal
Taking food experience to the next level in more than 25+ locations in Bhopal. Delivered more than 100000 meals in the last three years of operation.
Serving in Milton Microwave Boxes
We do not want to make any compromises when it comes to ensuring the quality we deliver. Whether it's the meals or the medium through which they are served, we won't let your expectations down. We bring you the most trusted Milton Boxes as we believe in comfort food.
18/7 Support | Call or Whatsapp
We understand that our customers are our partners in mission. We want to focus on what's going wrong to make it right. Call us or Whatsapp anytime for any queries. Our response team is trained and ready to address your every requirement.
What Customer Say About Us?
"Frankly we were expecting some fancy stuffy to come out of my meal box, like all other tiffin centers do. But you guys really impressed us with the simple ghar ka khana with no efforts for first time. Really love MealOn tiffin service."
"It was very homely food plus no excess masala or oil. I tried more than 5 different tiffin service in bhopal but the true ghar ka khana came from mealon. Also they include sweets every alternate days which i really love.."
"My experience with Mealon was awesome. Food was delivered in Milton boxes which was very handy. The taste was same as maa ka hath ka khana. Their flexible plans were very handy for me. Mealon is one of the best tiffin service in bhopal."
What food bloggers say about us?
About MealOn
Some roads take you places. Some meals take you home. As the name suggests we are here to make sure you don't skip meals and your Meals are always on.
MealOn is a tiffin service in Bhopal delivering monthly tiffin and thalis. We deliver tiffins and thalis in Milton microwavable boxes in more than 25 locations in Bhopal. Our customers love MealOn tiffin service for its Ghar jaisa khana and the best customer experience.
Call:
9111998999
Whatsapp:
9111998999
Email:
We are closing MealOn. Anyone interested in acquiring our business and want to run as we did, connect with Asif – 7587907951 on Whatsapp
Contact :
4/2 , Meera complex, Zone-II, Maharana Pratap Nagar, Bhopal, Madhya Pradesh – 462011
Call/WhatsApp: 9111998999
Delivery Timing:
Lunch:     11:30am – 2pm
Dinner:    7pm – 9pm
Meal on is a monthly tiffin service in bhopal providing tiffins and thalis for students and working professional.
Why MealOn?
Because meal on is the only tiffin service in bhopal that serves food cooked by mothers, packed in milton boxes and delivered on time.
What locations are meal on serving?
Meal on is serving in 25+ locations in bhopal. It is the only tiffin service in bhopal that delivers in remote locations.
Locations:
Ayodhya Nagar
Minal
Indrapuri
Chattrasal Nagar
Shakti Nagar
Saket
AIIMS and nearby
Govindpura
Ashoka Garden
Arera colony E1 to E6
Trilanga
Bawadia kalan
Ashima mall and around
Shahpura
Kolar ( Specific Areas)
Chunabhatti
Mp Nagar zone 1/2
Rachna nagar
Kasturba nagar
Bharti niketan
Arera Hills
New market
Does Meal On has online ordering?
Meal On is working to launch its own app and online ordering app in coming months. It will be the only tiffin service in bhopal that will provide customized monthly meals, special student discount, skiping meal options and breakfast service for students and working professional.
Are Meal on rating Authentic?
Yes meal on ratings are 100% authentic and from real customers. it is the only tiffin service in bhopal with more than 2k followers in instagram and facebook.